Media Release
Tuesday, 14 June 2011 12:22
The vast majority of home buyers have no knowledge of their legal liabilities or the financial implications of purchasing a home with illegal building, Archicentre, the building advisory service of the Australia Institute of Architects warned today.
According to Archicentre statistics 29% of Australian homes inspected by Archicentre Architects have some form of illegal building.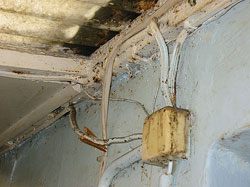 Illegal wiring on a property
Ian Agnew, Archicentre State Manager Queensland, said in extreme cases home buyers could be forced to pull down or rectify illegal structures and become legally liable for any injuries caused to visitors or tradespeople who suffered injury as a result of the illegal building.
"Most dangerous situations are where people have undertaken illegal wiring, plumbing, structural changes or the construction of balconies and decks on the property.
"However, people contemplating undertaking illegal building should be aware, one way or the other, it will catch up with them.
Mr Agnew said that the harsh reality of the impact of illegal building comes home when people go to sell their homes and find that purchasers are requesting the appropriate paperwork including building permits, and documentation from licensed plumbers and electricians certifying work that has been carried out.
"The bottomline is that if the documentation cannot be produced then it becomes highly likely that buyers will not want to inherit the legal or safety risk.
"Even if the home is sold to an unsuspecting buyer with illegal wiring or illegal plumbing, an accident caused as a result of the unregistered and illegal work could place the buyer in court facing huge legal damages."
Mr Agnew said that the illegal building, which can cost the home owner thousand of dollars, is a false economy as in the long run it can devalue the home and make it difficult to sell.
"If there is an accident at the home such as a balcony collapse, or a death by electrocution, investigations by authorities will ultimately turn up if the building work does not have the appropriate certification.
Mr Agnew said that often illegal building is covered up with quick make-overs, however, all home buyers should ask to check the paperwork and permits before purchasing a home. Where wiring and plumbing has taken place on a property certification by qualified tradespersons should be available.
Archicentre conducts thousands of pre-purchase inspections every year and many of these are requested by people who have previously purchased properties and after moving in have discovered major faults, many of which are related to illegal building.
Common illegal building signs uncovered by Archicentre architects during pre-purchase home inspections include:
  The removal of interior load bearing walls during renovations causing sagging roofs and ceilings.
  Illegal plumbing connections and drainage causing damp and health hazards under the floor.
  Illegal wiring where the home owner has added additional power points, extra wiring or light fittings. Illegal wiring increases the risk of house fires and can be deadly for occupants or visiting tradespersons.
  The addition of rooms in roof spaces without permits or appropriate support structures in the roof structure.
  Damp and dank areas in the house through lack of ventilation.
  Tacked on additions which do not look like part of the original home.
  Dug out areas under buildings with illegal wiring.
  Elevated timber decks and balconies which shake when walked upon.
"Anyone purchasing a property, as a home or an investment, should thoroughly check all of the paperwork to ensure they are not buying a future legal problem or placing themselves or family members at risk through illegal building work," Mr Agnew added.

www.archicentre.com.au
Media Enquiries:
Ron Smith, Corporate Media Communications, Archicentre - Mobile: 0417 329 201