Media Release
Thursday, 09 June 2011 14:47
Archicentre, the building advisory service of the Australian Institute of Architects today said that electrical problems are one of the most frequent building faults revealed by the Victorian Government's Home Renovation Service and they are an area most closely linked to hospitalisation and fatalities. 
Archicentre provides the free home safety inspection service in Victoria for aged or disability pension card holders, which is fully funded by the Department of Human Services.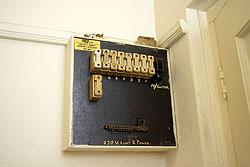 Outdated electrical switchboards are common, particularly in older homes.
Across Victoria, electrical hazards were reported in 23% of homes inspected and many of them pose a fire risk.
Mr David Hallett, Archicentre State Manager Victoria said common electrical problems revealed during the inspections included defective wiring, unearthed power points and antiquated switchboards without residual current devices (safety switches) installed.
"A large proportion of electrical problems have been caused by the owners themselves - or previous owners, personally installing additional power points. This illegal wiring is extremely dangerous and increases the risk of house fires and can be deadly for occupants or visiting tradespersons. Electrical wiring should only be undertaken by a licensed electrical contractor."
Archicentre's Electrical Safety Tips
  Use qualified electricians for all electrical wiring work, and obtain a Certificate of Compliance where required
  Minimise the use of double adaptors and power boards that overload power points
  Eradicate any vermin. Rats and mice can eat the insulated wiring in the roof and floor spaces and ants have been known to nest in power points
  Check all electrical leads and plugs for signs of wear, damage or deterioration
  Upgrade original switchboards in older homes and replace old fuses with new 'safety switches'
Mr Hallett said all home owners should also ensure their smoke alarms are working as most fatal fires occur in the home and winter is a high fire risk time.
"Older adults are considered a high risk group in fire. Some medications decrease their mobility and hearing which can reduce the ability to detect and escape from fire. Impairments can make it difficult for some people to respond quickly to a developing fire. Living alone can also increase their vulnerability to fire."
Archicentre has been inspecting homes for smoke alarms since 2004. Mr Hallett said since then, the architects have reported a significant number of senior's homes without smoke alarms and of the ones that did have them, many were inactive, or had the alarm, but hadn't installed it.
"Many families owe their lives to working smoke alarms as you can't smell smoke when you are asleep. A small fire can quickly grow to involve an entire room in two - three minutes. Smoke alarms are an essential early-warning system to alert you and your family to the dangers of fire and smoke and allow time to escape." Source: Metropolitan Fire Brigade
Mr Hallett said fires starting in the ceiling above the smoke alarm can spread quickly through the roof cavity without activating the smoke alarms.
"Clutter and the storage of old newspapers or other flammable material in homes can cause a major hazard in the event of a fire with a major problem being caused by deadlocks where keys have been removed which has resulted in fatalities with people trapped because they have not been able to open the door."
Research by Australasian Fire Authorities Council (AFAC) found that the absence of a smoke alarm can increase the possibility of a fatality by 60%. Each year on average there are more than 50 deaths - one a week, across Australia as a direct result of a house fire, with the majority of deaths occurring between 9pm and 6am when the household is asleep.
Archicentre's Fire Prevention Tips
  Correctly install appropriate smoke alarms in effective locations.
  Test smoke alarms regularly.
  Install lever handle latches on doors for a quick exit without keys.
  Clean the exhaust fan grille over the stove to remove dust, fat and grease build-up
  Remove all extension leads if possible.
  Always turn off the power points when not in use
  Get rid of double adaptors and reduce use of power boards
  Install a Safety Switch on power and light circuits.
  Ensure down-lights are properly installed and not compromised by insulation.
To support the joint MFB / CFA Winter Fire Safety Campaign, Archicentre is providing information about the proper installation of smoke alarms with every free inspection during winter.
The FREE Home Safety Inspections are funded by the Victorian Government through the Department of Human Services (DHS) for aged pensioners and disabled persons. To access the service telephone (03) 9815 1900 or 1300 136 513.
Media Enquiries:
Ron Smith, Corporate Media Communications, Archicentre - Mobile: 0417 329 201