Media Release
Wednesday, 01 June 2011 14:52
Despite falling house prices home buyers should not drop their guard on carrying out thorough inspections of properties.
Archicentre, the building advisory service of the Australian Institute of Architects said that home buyers should take advantage of the current swing to a buyer's market with a glut of properties on the market to ensure they have a professional and independent inspection of the property.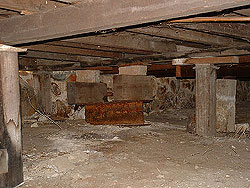 Stumps created with steel channel, red gum sleeper off-cuts and
bricks underneath a property.
Edward Lukac, Archicentre State Manager South Australia said, "in the current market many vendors keen to sell their properties are likely to accept a clause 'subject to an inspection  revealing no major building defects or termite activity', which provides a purchaser with the financial security of not purchasing a lemon with expensive unbudgeted repairs.
"Often the decision not to carry out a property inspection can make a major financial and social impact on buyers who in some cases run into serious debt problems with unbudgeted repairs or maintenance being added to the mortgage compounding the affordability problem with a $30,000 repair cost turning into $50,000 over the life of a normal loan."
Mr Lukac said in the vast majority of Australian property transactions, an estimated 80% take place with purchasers failing to protect their financial position by not having the property inspected for structural or termite problems.
"In the current climate where many vendors may be facing mortgage stress and decide to sell, the lack of funds for maintenance or repairs can increase the risk of 'Lemon properties' coming onto the market.
"New DIY products that fill gaps and cracks are perfect weapons of mass deception which can help dress up Lemon properties.
"Typical warning signs for 'Lemons' include the use of gap filling products, new wall panelling, strategically placed furniture, pot plants or rugs and newly painted surfaces".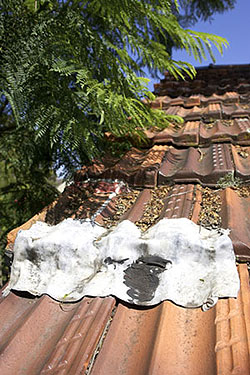 Lead sheet covering chipped or broken tiles on the roof of a property. 
The following list of Lemon Buster cover ups are based on the findings of Archicentre architects conducting pre-purchase housing inspections across Australia.
Archicentre Top Ten Cover Ups
1. Illegal building - Undertaken without appropriate permits.

2. Cracking - Internal walls patched and painted, or new wall panelling installed concealing the cracks, external walls concealed behind plants or trellis.

3. Damp - Walls painted or furniture placed against damaged walls.

4. Termites, borers, and timber rot - Floor damage patched and concealed under carpets or panelled flooring.

5. Roof problems - Rusty metal roofs painted, tile roofs patched with lead. Damaged roof framing propped up in roof space.

6. Rotten weatherboards and windows - Rot patched with filler or covered with tin and painted.

7. Rotten sub-floor or stumps - Floors temporarily propped to prevent bouncing.

8. Faulty or illegal wiring - Carried out by unregistered persons.

9. Faulty or illegal plumbing - Carried out by unregistered persons.

10. Guttering and downpipes - Rusty guttering patched and painted instead of being replaced.
Mr Lukac said a professional inspection of the home will assist buyers in determining the condition of the property and the cost of repairs providing them with a bargaining tool to factor in repair or maintenance costs into their budgets before committing to the purchase of the property.
Archicentre often receives calls from home buyers, after they have moved in, to carry out an inspection to determine the extent of the problem, provide cost estimates and solutions to repair their home.

Mr Lukac said with the current housing affordability crisis and projected rising interest rates, home buyers need to be far more methodical and realistic in purchasing a home, as the room for making a mistake without serious consequences has disappeared.
According to data compiled from Archicentre's pre-purchase home inspections, health and safety risks exist in about one quarter of older Australian homes, and expensive hidden defects exist in about one in three properties.

www.archicentre.com.au
Media Enquiries:
Ron Smith, Corporate Media Communications, Archicentre - Mobile: 0417 329 201