Media Release
Wednesday, 16 March 2011 15:04
If your house or the house you are intending to buy has a mouldy or musty smell, or you can see dark staining on the walls or ceilings, the house could be a health hazard for yourself and your family.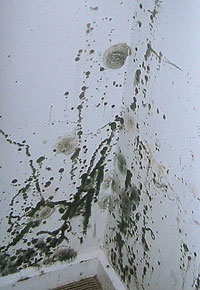 Bad mould on the internal walls of a property.
Mould should not be taken lightly as it can trigger life threatening diseases such as asthma.
Edward Lukac, South Australian State Manager of Archicentre said mould is a common factor found during Archicentre pre-purchase home inspections, especially older homes, and is also common in inspections of units and apartments where there is often a lack of adequate ventilation for washing and drying areas.
"In units and apartments, where space is tight, often laundries are little more than a cupboard with a washing machine, a clothes dryer and laundry basin."
Mr Lukac said mould in homes is an issue which home owners should monitor carefully and an issue all prospective home or apartment buyers should check before purchasing a property.
"Mould grows wherever it can find both food and water. As food sources are abundant in buildings, mould growth generally indicates the presence of excess moisture which may be due to numerous factors including leaking water pipes, flooding and condensation."
Moulds release toxins which may result in adverse health effects, including
 allergies
 asthma and other respiratory disorders
 eye, nose and throat irritation
 skin problems.

"Moulds are living organisms and reproduce by releasing spores into the atmosphere, similar to mushrooms and other fungi. The spores from certain types of mould can cause asthma, bronchitis and recurrent colds in some people."

Mr Lukac said, "Moulds require moisture, a food source - such as paper, paint, clothing etc., and still air. Seventy per cent of mould problems are due to condensation coming from wet areas like bathrooms and laundries, while thirty per cent comes from rising damp".

"Rising damp may be evident in winter, but is not always detectable in summer".

"Even minor signs of damp may indicate a far more serious underlying problem and you should consult a damp control company when in doubt".


"Rising damp occurs at the bases of walls. Water accumulating there has a tendency to "wick up" through the capillaries that are present in the walls, be they brick, block or most stone; and through the mortar in which they are laid".

"Damp-proof courses are there to block this upward movement of moisture but are sometimes ineffective."

Mr Lukac said rising damp can cause increased room humidity, thus encouraging vermin infestation such as cockroaches, silverfish and dust mites, as well as toxic mould growth - all serious asthma allergens.

"Mould growth inside your home should always be considered potentially harmful and should be eradicated".

"It is important to trace the source of the damp which can come from leaking water pipes."

Mr Lukac said mould can be eradicated by cleaning it with a special purpose household cleaner - which should kill the current infestation, fixing any sources of moisture such as condensation, rising damp, leaking roofs and pipes, and by improving ventilation by leaving windows open. To cure rising damp, your damp control company or building inspector will advise the most appropriate solution.

"Common cures include replacing or repairing the damp-proof course, repairing leaking plumbing or improving sub-floor ventilation".

"This can be an expensive and if you are in doubt before purchasing a property it is wise to have a thorough assessment of the level of the rising damp and its damage to the building," Mr Lukac added.

Media Enquiries:
Ron Smith, Corporate Media Communications, Archicentre - Mobile: 0417 329 201