Media Release
Tuesday, 28 September 2010 15:16
Daylight saving in Australia, which starts again on Sunday 3 October 2010 in the eastern States, has been a major boost to the developing trend in Australian housing to open up the house to the garden creating indoor outdoor living areas. 
Archicentre, the building advisory service of the Australian Institute of Architects said the added hour of daylight extends the use of the home for entertainment and relaxation.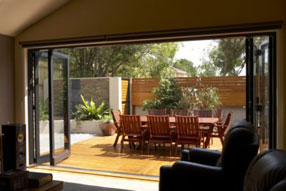 Creating versatile indoor outdoor dining areas with the use of folding doors have become a popular extension of the home.
Michael Cooper, Tasmanian State Manager of Archicentre said the warmer weather of spring and summer encouraged the trend of creating versatile indoor outdoor dining areas under the roof line with the use of folding doors. This trend is increasingly popular with home owners undertaking Archicentre renovation design reports.
Mr Cooper said, "the thought of spending on average of $50,000+ to move house, with costs mainly in government taxes and charges, has seen thousands of home owners go on a renovation strategy to improve their existing homes.
"One of the most cost effective ways of increasing the livable areas of the home is to extend out into the back garden through a deck with an indoor outdoor link by opening up the back wall of the home."

"The trend is seeing the Australian backyard receiving a major make over and a return to importance as people move to spend more time in the open and in their gardens."
Mr Cooper said this is also placing more emphasis on housing design fitting into the environment with the blending of landscaping and building becoming an important part of the original design brief.

"It's all about making sitting inside feel like sitting outside," Mr Cooper says. "This is done using rolling doors, retractable roofing or light wells and an energy-efficient design. A complimentary style of flooring creates the illusion of seamlessness."
Decking
"A lot of people still love the hardwood deck and it's often the most practical solution," says Mr Cooper. "However, our architects have been having great success with natural stone products and polished concrete."
"Where a deck is not feasible, a courtyard fills the void," Mr Cooper says. "Courtyards also create northern aspects and privacy. They seem to be most common on renovations of old properties like semi-detached or terrace houses".
Pergolas
Leafy pergolas provide sun protection and garden character, but a lot of outdoor extensions have been defined by even more elaborate conservatory constructions with integrated lighting, fans, speakers and kitchenettes.
Pools and water features are also popular including lap pools, splash pools, plunge pools and the occasional Olympian pool.
Outdoor Kitchens
The continuing trend of indoor / outdoor kitchens already a growing demand among Archicentre customers are set to become one of the biggest changes.
The outdoor kitchen is the step up from the traditional family portable barbeque as entertaining in the outdoor indoor environment takes on a more formal approach of a dinner on some occasions.
Health and Relaxation
In a busy world and with tightening budgets people are looking to create a signature sanctuary and home where they can sit and rest quietly in natural surroundings.
The indoor outdoor living area in a family home is versatile providing both an entertaining area for family and friends and a quiet area for individual relaxation.
Maintenance
Coming with outdoor living Archicentre architects report a trend to move away from lawn to low maintenance gardens using the paved courtyards, drought resistant plantings that can survive weather extremes and potted plants which can be moved around.
Lap pools have become popular saving both space and maintenance.

Media Enquiries:
Ron Smith, Corporate Media Communications, Archicentre (03) 9818 5700 Mobile: 0417 329 201