Media Release
Wednesday, 14 July 2010 13:25
The new voluntary code of Cradle to Grave Housing Guidelines which will see new homes include wider doorways, ground level bathrooms and entry level access to comply with new voluntary building guidelines to improve living standards for people of all ages and the disabled, should also apply to renovations.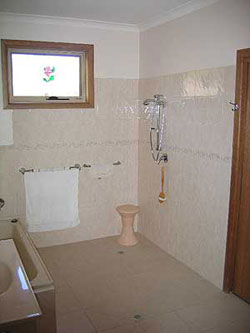 Level entry showers and grab rails are extra safety measures for the aged and the disabled.
The Federal Government with a voluntary industry agreement has launched the Universal Housing Design Standards that will add an estimated $2,000 to $3,000 on average to each home - about 140,000 homes a year nationally.
Ian Agnew, Queensland State Manager of Archicentre said the new standards would include wider doorways, ground level bathrooms and entry level access which would help remove traditional hazards such as falls and climbing of stairs, both danger areas for toddlers and older residents.
Mr Agnew said the new guidelines should apply to the renovation area, especially where cashed up home owners are involved, as building in the new guidelines to renovations and new houses represents a positive and cost saving safety strategy as well as improving visitability and enhancing the value of the property when it is sold.
In Australia, according to an Australian Institute of Health and Welfare report* more than 66,800 elderly people are taken to hospital in a typical year after suffering a fall, with research showing women at far greater risk.
Mr Agnew said the direct cost to the health system according to the Institute to help people aged 65 recover from falls in hospital was $566 million. The Institute also found the deaths of more than 1,300 people aged 65 and older each year were attributed to falls.
* Hospitalisations due to falls by older people, Australia 2005-06 - February 2009 The Australian Institute of Health and Welfare.
Mr Agnew said these new housing design guidelines also come at a time when Australia has an ageing population and people are wanting to stay in their family home as long as they can manage, being close to friends and their local communities.
"Often it is the impact of a fall which takes away an elderly home owner's independence and forces them out of the family home," Mr Agnew added.
www.archicentre.com.au
Archicentre, the building advisory service of the Australian Institute of Architects
Media Enquiries:
Ron Smith Corporate Media Communications Archicentre (03) 9818 5700 Mobile: 0417 329 201