Media Release
Wednesday, 16 June 2010 11:53
Vendors and real estate agents should avoid the risk of unwittingly selling or renting a home with an unsafe balcony which could collapse, killing or injuring people, by having scheduled maintenance checks.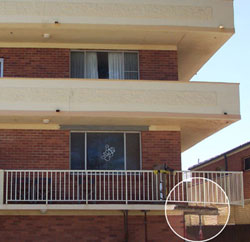 Edge of the concrete balcony has broken away. Props placed underneath the balcony to stabilise the balcony whilst repairs are conducted.
Ian Agnew, Queensland State Manager of Archicentre said
people buying properties with large decks, or high balconies, especially Queenslanders and those in coastal areas, should request a copy of the building permit for the structure and an independent current assessment of its safety by a registered inspector from a reputable organisation.

Mr Agnew said it is important people purchasing homes have access to appropriate building permits to gain an understanding of when the deck was built and approved by the local council.

Archicentre's pre-purchase home inspection statistics show that approximately 6% of Australian homes have a timber balcony or deck and that about 2% of these (8000) are potentially fatal.

Following another balcony collapse in New South Wales over the weekend, where twelve teenagers were injured, Mr Agnew said selling a house with an unsafe balcony could be compared to selling a car with no brakes. In recent times in Queensland we have seen a tragic incident where a balcony floor gave way causing a baby to be dropped resulting in a death.
Archicentre stresses there is a need for people to continually inspect their decks and balconies for rotting timbers and rusty corroding steel fittings which could lead to life threatening balcony collapses.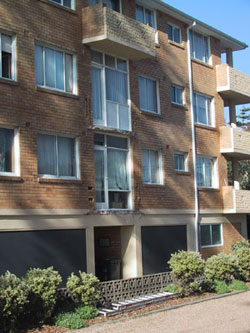 Concrete balcony collapses onto the one below sending it crashing to the ground - fortunately no-one was injured.

Mr Agnew said in the last few years, balcony collapses in several states have resulted in a number of injuries and deaths with Queenslanders and coastal properties in the high risk categories because of the harsh environment and salt damage to metal fittings.

"As a safety measure, all homeowners should continually thoroughly check the timbers, fixings and structure that support and attach the deck to the home, and check the bracing members and support beams of the deck, timber posts and steel columns looking for soft, spongy sections of compressed timber and rusting steel."
These are the main issues Archicentre architects come across during safety checks on decks and pre-purchase housing inspections being conducted across Australia.
"If people find faults they should take immediate action to repair them and if they are not sure to seek professional advice of an architect, engineer or registered builder."
Archicentre Home Owners Check List

Timber Balconies
1) Identify the species of timber. Oregon may not be appropriate for external structures. It is Distinguishable by a broad softwood grain pattern and by a pinkish colour when fresh surfaces are exposed, like during a split, for instance.

2) Observe for any compression or deformation of the structural members.

3) Test the timber by probing with a sharp object like a screwdriver. Decayed timber may feel soft and spongy.

4) Gain access underneath using a ladder. Check connection points at the beams with a screwdriver for deterioration. Timber generally rots where two pieces of timber join together. Examine brackets and bolts to make sure they are not ruste5) Make sure the timber balcony is properly fixed to the house or that the members run into the house.

6) Check base of timber posts for rot and again check brackets and bolts for signs of rust.

7) Posts need to be securely anchored into the ground and not just bolted into the paving.

8) Check handrails and vertical balustrade to make sure they are not rotted and unstable.
Concrete Balconies

1) Look for signs of concrete balcony slab deflection. If so there is a problem.

2) Examine the underside of the concrete balcony. Rust stains on exposed steel reinforcing are signs of a serious problem.

3) Check handrails and balustrades to make sure they are not rotted, loose or unstable.

4) The presence of spalling, where chunks of concrete are flaking off, may be a serious problem and needs to be inspected by an expert.
www.archicentre.com.au
Archicentre, the design and property service of the Australian Institute of Architects.

Media Enquiries:
Ian Agnew, Queensland State Manager Archicentre (07) 3846 4957
Mobile: 0413 930 106
Ron Smith Corporate Media Communications Archicentre Mobile: 0417 329 201