27/02/2009

27 February 2009
Climate Change Design and Behaviour the New Gold in Housing
New housing and renovations designed to take into account the impact of climate change will provide their owners with a long term re-sale value as costs of energy and water are expected to rise.
Archicentre, the building advisory service of the Australian Institute of Architects said, not only would good climate change design provide a monetary return it will also provide benefits in lifestyle and health.
David Hallett General Manager of Archicentre said designing sustainability cost saving into new housing and renovations is money in the bank for home owners who could save hundreds of dollars a year annually.

Mr Hallett said that prices will continue to rise annually in the future as Governments and private operators of water and energy facilities move to claw back costs for new and existing infrastructure such as desalination plants and new forms of non polluting energy production.

"Basically the cost of these resources and services are creating a long term market force in new housing and renovation which is already being captured to a certain extent by regulation on building standards.

"Marketing programs by builders are already differentiating their designs with sustainable aspects such as passive solar design, rainwater tanks and smart energy systems."
Mr. Hallett said achieving the best financial and lifestyle return on a new or renovation design needs to be planned out and carefully followed through with the ultimate factor being the sensible management of the home.
"You can design the most energy and water efficient home possible, however, if people do not manage the home correctly the effort can be wasted."
Mr Hallett said that people do not need to be convinced about going green in renovation or housing design - we are at the stage where people want to know how they can make it happen and what is the cost. "We are at the "HOW TO STAGE " and there needs to be a focus by government and green industries on the best, easiest and most cost effective way to make this happen with Australian made products to support our local economy."
In a recent poll, Archicentre asked its member architects to name the biggest industry change over the last five years and 25% said sustainability. They were also asked what the next big trend in renovating was and 71% said sustainability. Australians seem to agree universally that green is good.
Trends in Energy-Saving from the survey showed extra insulation is the number one energy saving trend with almost nine out of ten homeowners (86%) taking it up.
Double-glazing is less popular (57.5%) because homeowners now have the option of removing the window and replacing it with high-performance glass that is thicker and non-reflective.
Traditional light globes are being phased out and replaced by compact fluorescent globes that cost a little extra but last ten times as long and conserve energy.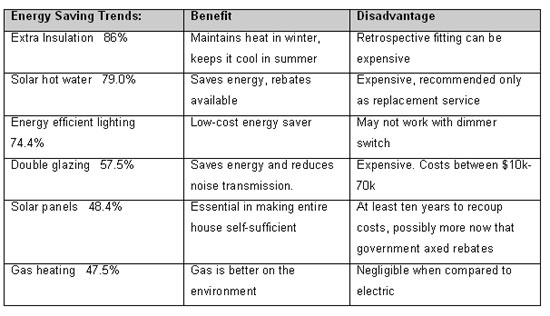 Rainwater tanks are an essential part of any renovation (92%). The long running drought has prompted Australians to take up government rebates and install rainwater tanks.
Nine out of ten Archicentre clients have requested a rainwater tank, a number that indicates people are putting sustainability at the forefront of every home improvement project.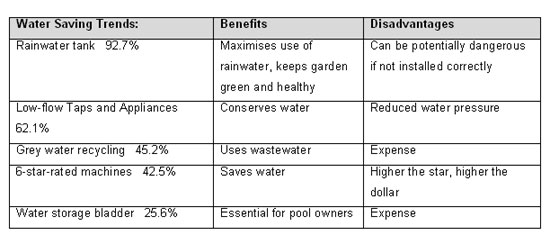 How to make your project a winner
Energy efficiency
  minimise energy usage through the installation of energy efficient appliances, equipment and lighting systems, optimise natural light;
  use recycled or recyclable materials and plantation timbers;
  renew energy sources with solar panels on the roof for water heating, photo-voltaic cells for outdoor security lighting and other uses where appropriate;
  use passive energy design principles with double glazed windows, external shading to windows, passive ventilation and using solar energy and photo-voltaic cells where appropriate and practical;

Water conservation
 store and reuse stormwater runoff;
 minimise water usage when occupied through the installation of low flush toilets, reduced flow showerheads and tap fixtures and non-water dependent landscape design.
Archicentre is holding an additional Sustainability Free Seminar on 6.30pm - 8.30pm Wednesday 15 April 2009.
Sustainability - Ten Things You Should Know about Building in a Changing Climate
The seminar will cover building in bushfire prone areas, why houses are cracking, what people can do to save water and energy, discuss alternative construction techniques, showcase a recent sustainable building project and take questions from the audience.
The venue for the Seminar is the Home Ideas Centre, 1686 Princes Highway, Oakleigh East. For Bookings please call Archicentre on 1300 13 45 13
Media Enquiries:
David Hallett General Manager Archicentre (03) 9819 4577 Mobile: 0439 439 115
Ron Smith Corporate Media Communications Archicentre (03) 9818 5700 Mobile: 0417 329 201