Victorian MPs in All Party Healthy BBQ Cook Off  
Victorian MPs, in an all Party Cook Off in the Parliamentary Gardens, today helped Kidney Health Australia tackle obesity at the traditional Australian barbeque as part of the battle against kidney disease, which is present in one in seven Australians.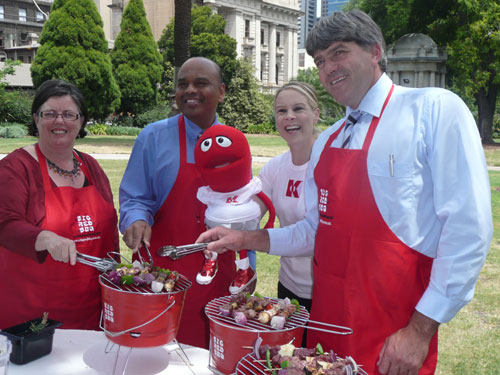 Left: MPs Colleen Hartland the Greens, Jude Perera ALP, Billy Kidney and Lindi Jane,
and Craig Ingram the Independent Chef displaying their BBQ skills today.


David Davis, Shadow Health Minister lined up with Jude Perera ALP, a recent kidney transplantee, Paul Weller National Party, Colleen Hartland the Greens, and Craig Ingram an Independent Chef to launch the healthy BBQ message in the Parliamentary Gardens at lunchtime.
Kidney Health Australia Managing Director & Chief Executive Officer Anne Wilson said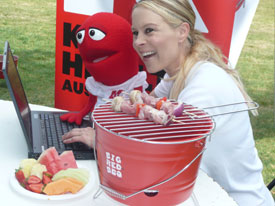 Kidney Health Australia is encouraging people to introduce healthy barbeque menus and food choices to cut the fat content of traditional barbeques
. Obesity increases the risk of kidney disease and our message to the community is to undertake a healthy lifestyle and maintain a healthy weight. 
After being presented with special BIG RED BBQ aprons and tongs Members displayed their cooking skills on a new environmental and fire safe Lokkii BIG RED Bucket BBQ while receiving plenty of advice from Kidney Health Australia's children's Ambassadors Billy Kidney and his companion ventriloquist Lindi Jane.       
The BIG RED BBQ - the Healthy Choice initiative focuses on recipes including fruit, vegetables, fish, chicken and smaller portions of traditional meat.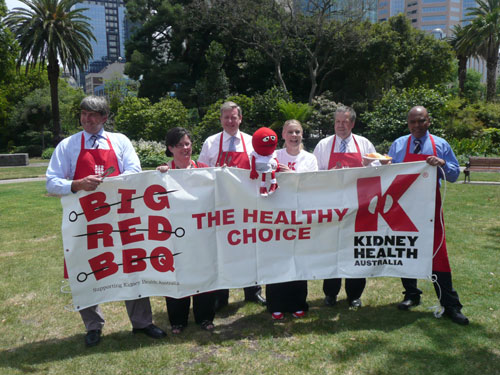 Left: MPs Craig Ingram Independent, Colleen Hartland The Greens, David Davis Shadow Health Minister, Billy Kidney and Lindi Jane, Paul Weller National Party and Jude Perera ALP at the launch of the Healthy BIG RED BBQ in the Victorian Parliamentary Gardens.


Ms Wilson said the campaign is also aimed at
Making a Noise About The Silent Killer - Chronic Kidney Disease
by making it a topic of discussion at every barbeque through the link to healthy eating and lifestyle.
Diet is a vital part of managing Kidney Disease and we have chosen to highlight the Aussie barbeque, a traditional family, sporting and community social activity as a focus point to promote healthy eating and encourage a greater use of fresh vegetables, fruit, fish, chicken, lean meats and salads as a preventative measure, Ms Wilson said.     
Healthy Choice BBQ Recipes Online
Fast Facts on CKD in Australia

Chronic Kidney Disease (CKD) is a significant and growing public health problem, responsible for substantial burden of illness and premature mortality.
In Australia, it is a fact that:
*  1 in 3 adults are at increased risk of developing CKD  
*  A person can lose up to 90% of their kidney function before experiencing any symptoms
*  Over 40 Australians die of kidney failure each day
*  11.3% of all deaths in Australia are due to, or associated with, kidney failure
*  Every day, 6 Australians commence expensive dialysis or transplantation to stay alive.
*  Most people with CKD will die from cardiovascular causes before requiring dialysis or transplantation
*  Aboriginal and Torres Strait Islanders experience excessive death and disability due to CKD
*  The dialysis-dependent population has risen by an average of 8% per year over the past decade, and is being fuelled by the ageing population, and Type 2 diabetes epidemic 
*  It costs approximately $83,000 per annum to keep a person alive on dialysis
There is consistent evidence that with proper medications and management, the number of people with kidney failure can be significantly reduced. However, early stages of kidney disease often go unrecognised, and the knowledge of what can be done to help patients is often not applied.
               
Media Enquiries:
Ron Smith National Media Communications Kidney Health Australia Mobile: 0417 329 201